A tree for every hero.
highway of heroes tree campaign
A living tribute for generations to come.
Together, we are planting a tree to honour every Canadian who volunteered for service since Confederation, 2 million trees for 2 millions Canadian heroes.
117,000
a tree for every canadian who was lost during wartime
Our Hero Trees are being planted directly along the Highway of Heroes between Trenton and Toronto. These trees will honour the 117,000 Canadians who died during wartime.
Just as Canadians lined the bridges during the Afghan conflict to welcome back our fallen soldiers, these trees will stand for generations, honouring those who paid the ultimate sacrifice.
To read just a few of the stories out these heroes, read more in our Honour and Remembrance>>
1,883,000
a tree for every canadian who volunteered to serve
Our Service Trees are being planted in communities immediately adjacent to the Highway of Heroes. These trees will honour the 1.8 million Canadians who volunteered to serve during wartime.
Our Service Trees have already been planted in a variety of communities surrounding the Highway of Heroes. Every planting has a story.
With your help we have planted nearly 100,000 trees so far. But we are still a long way from our goal. We plant our trees in a combination of public and private land.
Private Landowner Partnerships
You can save 80-90% on your tree planting while contributing to the Highway of Heroes Tree Campaign.
The virtues of trees.
For every $1 invested in trees results in approximately $8 in other benefits.
ENVIRONMENT:

Our campaign enhances the natural environment and makes a lasting impact for generations to come.
Sequester 3,067,200 tonnes of carbon over the next 100 years;

Produce 520,000,000 lbs of oxygen annually;

Increase wildlife habit;

Positively impact the pollinator populations along the 170km Highway of Heroes route.
INFRASTRUCTURE:

Green spaces along highways have several infrastructural and safety benefits.
Natural wind and snow breaks;

Stormwater adsorption;

Soil stabilization;

Erosion prevention;

Studies have even shown that trees reduce traffic speeds.
COMMUNITY:

Our campaign connects to communities from across the country.
Memorial tree plantings provide a form of therapy to those coping with PTSD;

Educate younger generations about our military history while highlighting the issues facing today's veterans;

Provide residents with an increased sense of ownership in their communities;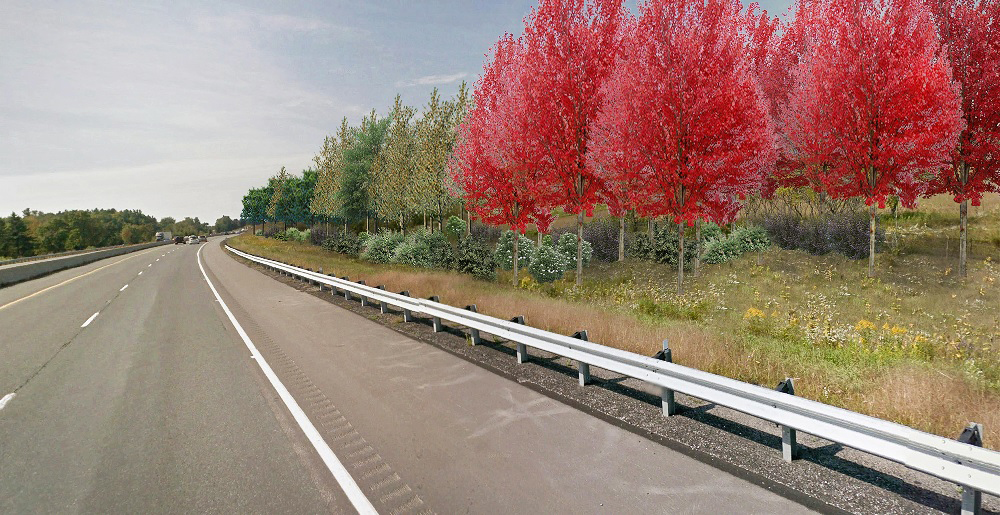 The transformation is already underway.
Beginning in 2015, we have planted over 100,000 trees along the highway and in the surrounding communities. To learn more, click the pins on the link below.
A tribute created to last for generations.
In March 2018, award-winning landscape architect Scott Wentworth unveiled a design which uses the spectacular fall colour of native maples to thematically link tribute plantings along the entire route.
NATIVE SPECIES
To ensure the tribute flourishes, our experts will choose the right mix of native species each specific site. Our plantings increase wildlife habit as well as positively impact the pollinator populations along the 170km Highway of Heroes route.
PLANTING & CARE
There are teams of experts collaborating on this project who understand the biology and ecology of native trees. In cooperation with the Vineland Research & Innovation Centre, we're using scientific research to guide our tree selection process within the transportation corridor. Each of our plantings is completed by qualified technicians skilled at soil remediation and site
Located in Canada's Niagara Region, Vineland Research and Innovation Centre is a world-class research centre dedicated to horticultural science and innovation.
Join us in creating the world's largest living tribute.